UGArden is supported by a wonderful combination of student volunteers, UGArden Club members, interns, a farm manager, Americorps Volunteers, UGA faculty, Master Gardeners and community members. The continued success and growth of UGArden is the result of the dedication and hard work of these people. The people that make up the UGArden community give freely of their time and energy. Without them, UGArden is just a field.
UGArden Spring Interns
Master Volunteers

Dr. Peter Hartel (Mushroom Guru) is a retired UGA soil microbiology professor who has a passion for organics, and especially chickens and mushrooms. He has constructed a very efficient shitake mushroom growing area that includes a mist system, timer and wire support systems for the logs. Peter teaches classes in mushroom production (shitake and oyster mushrooms) to students and volunteers each winter. He continues to conduct informal research on growing practices to further the study of shitake mushrooms and has experimented with other mushroom species.
Bert Richards (Compost Manager) is a Master Gardener Extension Volunteer and helps at the UGA Trial Gardens, State Botanical Garden of Georgia, and UGA Horticulture Farm. He recently completed the Master Composter course and currently oversees composting at UGArden. He retired from Georgia State University as Lecturer in Accounting in 2013.
UGArden Staff

Johannah Biang (Farm Manager) jb1410@uga.edu JoHannah is from Pike County, Georgia and recently completed a Masters of Science in Horticulture. Her research focused on irrigation scheduling and green wall systems. While a graduate student, she was the acting Farm Manager at UGArden on a part-time basis. Since graduating, she has assumed the position full-time. Johannah plans and oversees the seasonal planting, teaches and supervises student interns, assists with class instruction, gives tours, conducts workshops in the Athens community, and too many other tasks to mention. Her positive outlook and energy keep UGArden growing.

Noelle Fuller (Herb Program Coordinator) njfuller@uga.edu Noelle graduated from UGA in May 2015 with a B.S. in Nutrition Science and In May 2017 with an MS in Horticulture Science. She is interested in medicinal herbs, edible landscaping, and creating recipes in the kitchen. Her research involved the cultivation and analysis of the medicinal herb holy basil. She is working on a new Herb Certificate and marketing our unique line of organic herbal teas.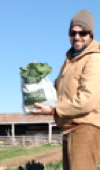 Philip "Wick" Prichard (Grow it, Know it Coordinator) warwickp@uga.edu Wick coordinates the Grow it Know it Program. He graduated from UGA with a Masters of Environmental Planning and Design in December 2013. Wick enjoys teaching students to cook straight from the garden and now training teachers and UGA students to help students grow their own gardens. He is also unabashed to sing about worms and compost.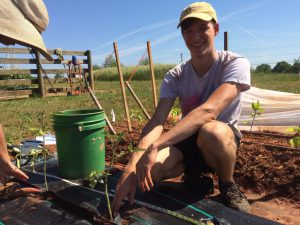 Caleb Sytsma (Biodynamic Manager) is a dual Water and Soil Resources and Food Science and Technology major. he is responsible for the Biodynamic Practices Demonstration/Research Plot.

Teri Rakusin (Assistant Farm Manager) is a third-year undergraduate majoring in Horticulture. She has been involved in UGArden through the UGArden Club and as an intern. Teri is now serving as the Assistant Farm Manager…Go Teri!.  Teri's favorite vegetable is green beans and she has become increasingly interested in fungi, so ask her for some cool fungal facts if you see her around the farm!
UGArden Director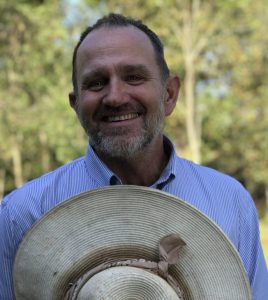 David Berle, Associate Professor dberle@uga.edu Professor Berle has been interested in organic food production since his undergraduate years at NC State University in the late 70's. He began his career as a county extension agent and along the way has co-owned a native tree nursery and operated two landscape businesses. He has worked for the past 24 years for the University of Georgia as the head horticulturist at the State Botanical Garden of Georgia, the UGA Grounds Department, and presently, as associate professor of horticulture.  He has a passion for mentoring students and exposing them to real-world experiences. He teaches classes in horticulture science, organic gardening, landscape design, and sustainable food production.
Faculty Advisory Committee
Brad Davis
Paul Guilebeau
David Knauft
Elizabeth Little
Jenn Jo Thompson
Shannon Wilder