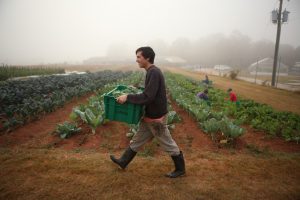 UGArden supports Grow It Know It, an active gardening and education program at four nearby middle schools, Clarke, Hilsman, Coile, and Burney-Harris-Lyons. Each school is a Title 1 school with a majority of students classified as "economically disadvantaged", and 69% receiving subsidized lunches. Administration, teachers, and students are very supportive of efforts to incorporate sustainable food production and nutrition into the curriculum and daily lives of kids at the school. In addition to large gardens, schools have a greenhouse, raised beds, fruit orchard, goats, chickens, aquaculture systems, and a cafeteria composting system. The schools' food service staff supports a regular supplemental food sampler cart known as the Garden Bar, featuring veggies from the schools' garden and UGArden. Keep Reading
Campus Kitchen
Campus Kitchen at UGA is part of a growing network of university organizations called The Campus Kitchens Project. Each school affiliated with CKP operates a little differently, but they all have the common goal of reducing food waste in their university and community, as well as, combating food insecurity by addressing its root causes. UGArden supports Campus Kitchen through weekly produce donations which support about 50 families in the Athens community.
Athens Community Council on Aging
Athens Community Council on Aging (ACCA) along with UGArden are proud members of the Senior Hunger Coalition which work together to address senior hunger in Athens. Seniors account for a large majority of our local citizens facing food insecurity due to lack of transportation infrastructure and social isolation. UGArden also helps support the growth of the on-site community garden located at ACCA by donating starter plants for volunteers to grow and harvest throughout the season. UGArden provides supplemental produce donations for our seniors via our Meals on Wheels, Center for Active Living, and Adult Day Health programs. The local produce helps our seniors "eat to their health" while also providing a link for our seniors to connect with the land and younger generations.
ExperienceUGA
Experience UGA is a new program developed to connect Clarke County School District students with the University of Georgia through organized learning experiences tied to grade-appropriate learning objectives. UGArden now hosts 7th graders from two Athens middle schools during the fall, providing hands-on learning activities related to sustainable agriculture.
Athens Land Trust (Community Garden Network)
UGArden staff and student volunteers provide hundreds of hours of gardening assistance to support the efforts of the Athens Land Trust and their West Broad Street Garden and Ruth Street Urban Farm. This partnership has existed since before UGArden was officially established and serves as a strong link to those in need in the Athens Community.
Athens-Clarke School Gardens
UGArden supports efforts of Keep Athens-Clarke County Beautiful to encourage K-12 schools in the area to start and maintain food gardens. Support is provided in the way of seeds, vegetable transplants, technical support and often, student volunteers who turn out for frequent work events at the 20 public schools in Athens-Clarke County.
UGArden Community Partners
Athens-Clarke County Extension Office
Athens Community Council on Aging
Athens Land Trust
Athens Master Gardeners
Keep Athens-Clarke County Beautiful (KACCB)
UGA Office of Sustainability
UGA Horticulture Department
UGA Office of Service Learning
Campus Kitchen
Donations of Produce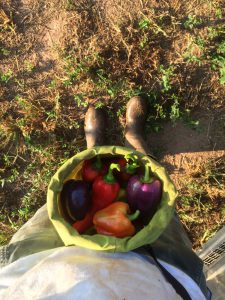 We are often asked to donate fresh produce to support UGA student events or other outreach programs on campus. UGArden supports the local Athens community every week by providing fresh produce through the Campus Kitchen program as well several other programs targeting low-income families. As a teaching garden, UGArden operates on a limited budget and functions as a non-profit, which often means relying on support from many of our community partners. We encourage students or organizations seeking donations of fresh produce to plan ahead and get involved in volunteer work events to help us grow more fresh organic produce to share.