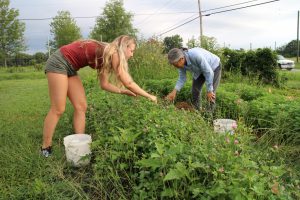 A small medicinal garden was founded back in 2012 by Maisie Loo, Master Gardener, who found her niche teaching students and community members about the process of turning fresh herbs into medicinal teas. The garden is part of a larger operation – UGArden – University of Georgia's student-run sustainable teaching farm.
UGArden is about to embark on its 6th year of tea production, growing over 40 different medicinal plants. Over the years, through study and observation, we have learned each herb has unique needs from sowing to harvest to processing. For example, stinging nettle grows best under a little bit of shade cloth, chamomile likes a little nip of spring frost after it has been planted, and burdock can make a vibrant green tea if prepared properly. These tips and tricks are one the many reasons that students and members in the community flock to the medicinal garden to volunteer and learn about medicinal herbs.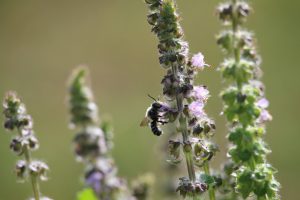 The herbs that are grown in the medicinal garden are grown using organic practices and without the use of any pesticides. Once harvested, they are air dried, processed, and eventually mixed together to form over 18 different tea blends that may cover a range of uses such as helping people recover more quickly from colds or helping with stress reduction. Besides the health benefits, everyone loves how fresh and vibrant the tea tastes!
Recently, we have been branching out and experimenting with other herbal preparations such as olive oil that has been infused with UGArden lavender, all-purpose herbal salve, and herbal soap.  
The medicinal garden at UGArden is a wonderful place to learn and grow, and we are always looking for volunteers! Come out on Tuesdays from 8:30-10:30am to work in the herb garden!
If you are interested in learning more in depth about certain herbs we have also started offering workshops!
Current Teas
Anti-Allergenic Tea: Reduces inflammation, improves breathing. Tulsi, Stinging Nettle, Goldenrod, Mullein, Catmint
Anti-Anxiety Tea: Relaxes and calms nerves. Lemongrass, Lemon Balm, Oats, Hops, Passion vine, Ashwagandha, CA Poppy
Anytime Tea: A refreshing drink that can be enjoyed anytime. Tulsi, Lemon Verbena, Mint, Stevia
Cold and Flu Tea I: Alleviates cold/flu symptoms. Lemon Grass, Lemon Verbena, Mint, Echinacea, Mullein, Boneset, Monarda, Thyme, Yarrow
De-Stress Tea: Takes the edge off. Lemongrass, Lemon Verbena, Chamomile, Oats, St. John's Wort
Feel Better Tea: Relieves cold/ flu symptoms. Lemon Verbena, Hibiscus, Mint, Thyme
Holiday Cheer: Refreshing red tea. Lemon Grass, Mint, Hibiscus
Lemon Ginger Tea: Comforts tummy issues. Lemongrass, Lemon Verbena, Ginger, Rosemary
Marshmallow Tea: Soothes irritated or inflamed mucous linings throughout the body. Marshmallow root
Migraine/ Headache tea: May relieve headaches. Lemon Balm, Chamomile, Lavender, Feverfew, CA poppy, Passion vine
Pick Me Up Tea: Chases the "blues" away. Tulsi, Lemon Verbena, Oats, St. John's Wort, Passion vine
Quick Start Tea: Stimulating herbs. Tulsi, Stinging Nettle, Peppermint, Turmeric, Stevia, Rosemary
Red Tea: Supports hormonal and heart health. Tulsi, Red Clover, Red Raspberry leaves, Rose Petals, Hibiscus, Motherwort
Restorative Tea: Strengthens damaged nerves. Tulsi, Stinging Nettle, Lemon Balm, Oats
Soothing Tummy Tea: Soothes tummy issues. Tulsi, Anise Hyssop, Yarrow, Chamomile, Rosemary
Strong Bones Tea: Nourishes and strengthens bones. Tulsi, Stinging Nettle, Oats, Horsetail, Red Clover, Peppermint
Sweet Lemon Ginger Tea: Soothes and comforts tummy issues. Stevia, Lemongrass, Lemon Verbena, Ginger, Rosemary
Tea for Heartbreak, etc.: Soothing and calming. Tulsi, Oats, Chamomile, Lavender, Rose petals
Tulsi Tea: Helps cope with the everyday stresses of life. Holy Basil
Up your Memory Tea: May improve your memory. Lemon Balm, Rosemary, Sage, Gotu kola
Other UGArden Products
Healing Salve: Chapped lips, insect bites, bee stings, minor cuts, scratches, rashes, blisters and sores. Calendula flowers, plantain leaf, violet leaf, organic olive oil, organic beeswax
Lavender Oil: Lavender, organic olive oil, lavender essential oil
Lavender Herbal Soap: Tulsi, lavender, lemon verbena, lavender essential oil, organic olive oil, organic sustainable palm oil, 76%, coconut oil, sodium hydroxide
Testimonials