Clarke Middle School (CMS) Satellite Garden and Kitchen Garden Corps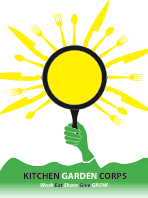 Since the fall of 2012, UGArden staff and student volunteers have helped layout and plant a condensed version of the UGArden four-plot rotation system at Clarke Middle School. Beginning in the spring of 2014, UGArden, with support from the Office of Service-Learning, initiated a new program at Clarke Middle, stationing an AmeriCorps VISTA service member at the school to focus on food insecurity, food production, and nutrition. In 2016, this program was formalized as the Grow It Know It program and stationed an AmeriCorps VISTA service member at each of Clarke County's four middle schools.
In addition to the school gardens, the middle schools maintain a greenhouse and raised beds and care for small farm animals as part of the FFA-Agriculture Science curriculum offered at the schools. The AmeriCorps VISTA assist the Agriculture Science teacher in training teachers and UGA student volunteers to work with middle school students in the garden in ways that meet these curriculum objectives.
Grow It Know It also utilizes the school garden during the summer with the Kitchen Garden Corps. Initiated in the summer of 2014, the Kitchen Garden Corps is a summer garden camp combining leadership, sustainable agriculture, and family and consumer science activities while providing valuable work-related skills and the opportunity to contribute to their community through improving access to fresh, local, and healthy food. Each day, students work in the garden, learn how to cook, and most importantly, eat all kinds of fresh fruits and vegetables. At the end of each week, students operate a "pop-up restaurant" where they decorate a classroom like a fancy restaurant and prepare and serve a three-course meal to a seating of 60 adults.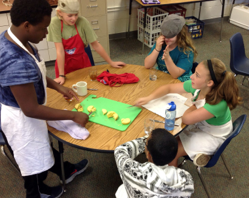 For more information about the CMS garden, visit:
https://kitchengardencorps.wordpress.com/
http://edibleschoolyard.org/program/clarke-middle-school-farm
http://www.clarke.k12.ga.us/ClarkeMiddle.com