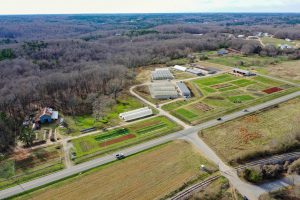 History: The idea for UGArden started with a group of students from various student organizations interested in the environment and sustainable agriculture. The student group was called the Campus Community Gardening Initiative and they proposed the garden be named UGArden. The founding members of the initiative were Mary Ora Carlson (first president of the UGArden Club), Craig Page, Morgan Flemming, Jenny Brickman, Liberty Newberry, and Jennifer Wolf.
These students drafted the Original UGArden Proposal that included a mission statement and plans for continued care of the garden. Several sites were proposed, however, finding a permanent home proved challenging, mostly due to the changing nature of a growing campus, and the need for a sunny, open space where a garden could be grown without concern for future campus development.
The site for UGArden was chosen because of its proximity to an existing Horticulture greenhouse complex and the availability of a larger space for future development. The greater amount of space proved fortuitous as the UGArden campus garden has become a farm and grown well beyond the size and scale originally proposed. However much UGArden has grown, the primary mission of creating a teaching garden with a focus on community outreach, has remained.
Initially financed with funds from the Horticulture Department, with site preparations provided by the UGA Grounds Department, students began preparing the first garden plot in May of 2010. Bolstered by funds from a USDA (NIFA) Higher Education grant to support a newly established interdisciplinary Local Food Systems Certificate, UGArden expanded rapidly over the following years. The first formal course was offered in the summer of 2011. Currently, UGArden provides teaching garden space for two Freshman Odyssey courses, a 3-credit hour internship ship course, and three upper-level courses in organic and sustainable food production. Students from all majors can come to UGArden to take classes, volunteer through Engage Georgia to learn how to grow a wide range of crops using organic methods and support community outreach efforts.
Farm Labor: UGArden is managed by a full-time Farm Manager and several paid student workers, with assistance from interns, undergraduate and graduate students, through formal courses and as volunteers.
What do we do with our produce?

A large portion of the produce grown at UGArden is distributed to families in need in the community through our partner organization, Campus Kitchen. Some produce is shared through our middle school outreach program called Grow it, Know it at the four Athens-Clarke County middle schools: Clarke Middle School, Hilsman Middle School, Coile Middle School, and Burney-Harris-Lyons Middle School. UGArden produce is used for cooking demonstrations and food sampling in the cafeteria. They also use our produce in the summer Kitchen Corps program and their weekly pop-up restaurant. Recently, UGArden has started to donate  produce to the UGA Food Pantry for students. A small portion of our produce is taken home by volunteers in appreciation for their hard work.
In the fall of 2017, UGArden initiated two experimental projects to market herbs and produce to UGA students. Herbal teas are now be sold at the UGA Dining Services Market at the Tate Center. And, a food service provider, Campus Cooks, is purchasing surplus produce weekly to provide fresh, locally grown produce and herbs to several campus sororities. These efforts contribute to the operating budget and allows us to share produce with those who otherwise could not afford it.
People often ask us why we don't operate a large-scale CSA, or sell produce on a larger scale. Our answer to that question is two-fold. First, and foremost, we are a teaching garden, and as such, we allow students to practice, learn and make mistakes. Teaching and training takes time, particularly with equipment and tasks like irrigation installation. We choose to make sure students learn it all, properly, without the pressure of meeting a production or financial goal. For example, a simple task like driving a tractor in a straight line, while pulling a bed shaper, can take hours to teach a student, when an experienced operator could cover one of our 1/10 acre plots in 10 minutes. Second, we feel the bounty of our harvest is best shared with those in need in the community and so we focus on partnerships that help get fresh, local produce into the hands of those who most need it while fostering better eating habits.